About Cleveland Public Adjusters
We work for you, not the insurance company.
Everyday the big insurance companies deny Ohio property owners money that is  rightfully owed to them on their insurance claims. Insurance companies ultimately work to protect their interests. Who is working to protect yours?
At Cleveland Public Adjusters, our mission is getting property owners what they deserve from the insurance companies.
We are consumer advocates licensed by the Ohio Department of Insurance to represent insurance policyholders (License number 1156402). If disaster strikes your home or commercial property, you can trust Cleveland Public Adjusters to handle your claim directly with your insurance company, expedite the claims process, and maximize the settlement you receive. We only collect a fee for our services if you receive a payout from your insurance company.
About our Team
We know exactly how to navigate the claims process to advocate for your interests and get you the maximum settlement. Our president and founder Andrew Kobak worked in the big insurance industry for years. Now as the leader of Cleveland Public Adjusters, he manages a team of licensed public adjusters, structural estimators, contents/business personal property valuation specialists, and project managers to benefit residential and commercial property owners.
Andrew Kobak, President and Founder
---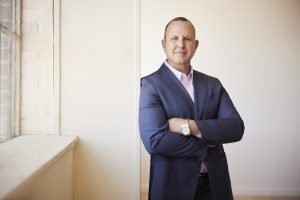 Andrew is a Lakewood, Ohio homeowner with over twenty years' experience in claims adjusting and property construction. He began his career in Florida as a Project Manager for a national home builder, then was a Senior Property Field Claims Adjuster in Ohio for Zurich Insurance Group, where he spent six years. He received multiple customer service awards for compassionate and thorough service to policy holders.
In 2017, Andrew spent weeks in Houston, Texas, to assist property owners in the wake of the Hurricane Harvey disaster to handle their insurance claims. Returning to Cleveland, he founded Cleveland Public Adjusters to act on the side of property owners and get them what they deserve from the insurance companies. He is a certified public claims adjuster licensed by the Ohio Department of Insurance to represent policy holders through the entire claims process. It is Andrew's personal mission to bring fairness to the claims process and always provide excellent and honest customer service to his clients.
Andrew personally leads negotiations through the claims process. He manages a value assessment team of professionals who assist him in securing successful settlements for his clients.
Member of the National Association of Public Insurance Adjusters and the Insurance Appraisal and Umpire Association.
We work for you, not the insurance company.